3 bhk flats in electronic city bangalore,flats and apartment for sale in electronic city b
Http://vmaksbuilders.com/ Provides 3 bhk
flats
in
electronic
city
bangalore,
, flats and apartment for sale in electronic
city
bangalore,top builders in bangalore, 3 bhk
apartments
in electronic city bangalore, 2 bhk apartments in electronic city bangalore, apartments in electronic city Bangalore.
http://vmaksbuilders.com/2bhk-3bhk-apartmentsforsale-electroniccity-nearbangalore.php
VMAKS RANGOLI provides 2 bhk apartments in electronic city bangalore and 3 bhk flats in electronic city bangalore
VMAKS BUILDERS PVT.LTD.is a leading land developers and construction company. Dedicated to develop properties that bring assured appreciating value. Passionate about quality, we at VMAKS BUILDERS PVT.LTD. believe in giving our customers the kind of living spaces that we would like to live in ourselves. It shall be an assured appreciation of the asset in case you plan a prudent investment too.
VMAKS RANGOLI a luxury residential apartment BMRDA approved with 72 flats in green city close to Electronic city, Ananthnagar- Hosur Road, Bangalore. VMAKS RANGOLI is everything you wanted in a home & more, speciously well designed as a private low-rise apartment surrounded by a beauty of nature to give you a quality of life. With each flat offering functional layout Excellent natural light, ventilation and privacy to the premium specification, fixtures and finishes.
VMAKS RANGOLI affordable apartment in Electronic City VMAKS RANGOLI located at Ananthnagar Phase ll a place where one can dwell in a peaceful environment with only a remote hum of the heavy loads passing by. Just 3 kms from Electronic city and about 10 minutes travel from 88 major IT companies like Infosys, Wipro, HP,Ge,TCS,Timken,etc.
VMAKS HEIGHTS
The home you have fervently hoped you would some day own is finally here. It's your own personal,
everyday getaway in a private oasis of tranquility. Situated in a serene, fully developed residential enclave, it's the home you always wanted, just where you wanted it. A beautiful home away from the crowds, yet not isolated from a normal lifestyle.
Built on a dream location off Hosur Road ,close to Biocon. Narayana and Hrudayalaya and Electronic City, it's one investment that is an easy decision.
Every home at Vmaks Heights embodies perfection, thanks to the extra ordinary attention we have lavished on even the smallest details. The apartments are all vaastu compliant and built to uncompromising standards, with an emphasis on comfort and classy living. Every component, every raw material and fitting, is chosen with extreme care, because we believe in homes that combine substance with style. Homes that retain their magic for a lifetime and more.
With a home at Vmaks Heights, you can start life a new. The enclave is designed to be much more than just place to stay.
Contained within this idyllic setting are full-fledged facilities to let pursue a health, robust lifestyle with landscaped gardens,
Swimming Pool, Jogging Tracks, Gym, Children's Play Area. party Hall and more, you will find it a well thought-out, inspiring compilation of facilities, so that you may live life and not merely exist from day to day.
As an investment, just the intrinsic value of a home at Vmaks Heights is unmatched. But when you get a home here, you get much more. You will be making an investment whose value is guaranteed to grow exponentially. It's proximity to Electronic City occupied by MNC's and Fortune 500 companies makes it a prime location. Properties in the area have appreciated to the tune of double in just 2 years! Rapid developments in the area like the upcoming 4-lane expressway connecting Bangalore and Electronic City is bound to make this location an even more dynamic, highly desirable place to be. With a hoe at Vmaks Heights, you will be buying into a value proposition that promises virtually immeasurable value.
For more detail please contact :
VMAKS Builders Private Limited
#131, 6th c main
Jayanagar 4th block,
Bangalore 560 011
email: sales@vmaksbuilders.com
Contact No +91 9019 319 319,+91 80 2244 0237,+91 80 2665 0058
Write review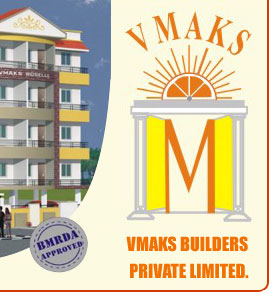 3 bhk flats in electronic city bangalore,flats and apartment for sale in electronic city b
Write review
Leave your comments on this ad
Offensive messages and spam will be removed