Advertisement

With
bookingxml
, you can decrease time-to-market for your new products and increase revenue streams with 600,000 + Properties via personalized customer engagement.
For over a decade, we have been providing Global Inventory for some of the world's leading online travel agencies. Our suite of APIs allows you to establish your own travel website or mobile app with instant access to worldwide Inventory around the world.
Create even more efficiency with deeper integration with our API. Our technical and domain experience in inventory management systems significantly decreases your operating costs. Our Travel APIs connect you to the richest content in the travel industry. Our travel APIs are highly scalable, allowing you to dynamically package other API services such as Transfers, Sightseeing, Car Rental , Cruise and more. Our suite of APIs enables developers to seamlessly integrate powerful solutions that deliver valuable insights.
Drive Global Rich Travel API Content
Instant access to rich travel inventory and competitive rates via a simple and fast API. Use the collection of details to create new applications and make a booking quickly and securely.
• Our travel API allows you to add live pricing and booking functionality, eliminating the need to deal with multiple supplier integrations
• More than 600,000 unique properties across the world, enabling you to provide a wide choice of hotels to your customer
• Direct Contracts with complete range of travel products to serve your Global Customers and outsmart your competition
• 50000+ locations in over 100 countries around the globe allow you to enjoy all the benefits of renting the cars no matter where your customers are located
• Wide range of sightseeing tours, theme parks, theatre shows, experience days and other activities in over 200,000+ Locations worldwide
RESTful API with Enriched Potential
RESTful API's offers a better, quick and faster way for manipulating the data from the other
web services
and for sharing the data across the web.
• RESTful APIs have different layers of their architecture working together to build a hierarchy that helps create a more scalable and modular application
• RESTful API provides a great deal of flexibility that allows developers to build an API that meets your needs while also meeting the needs of very diverse customers
• API can increase request overhead by handling large loads of incoming and outbound calls, a RESTful API should be designed to boost the storage of cacheable data
• We provide in-depth support in Travel API XML / Rest API integration that is integrated with various service providers around the worldwide travel market
Advertisement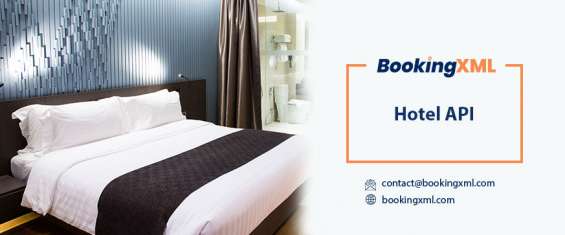 Bookingxml hotel api
Write review
Leave your comments on this ad
Offensive messages and spam will be removed