Get C o n f i d e n c e. learn How to Speak with an american Accent, what to say, how to say it. Score Big in the web conference meeting. Impress your clients and your PEERS. Quickly sign up and Get 1st Lesson Free. Learn How to Communicate in the American Way. accent, Culture, Online Meetings & Presentation Expectations. Learn appropriate vocabulary, right pronunciation & how to speak well on the shared virtual web conference tools like WebEx or Skype. The best part is, it helps you to make a good impression during daily online web meetings. BeeJay's programs ensure Zooming Careers, Quick promotions. Positive appraisals. More foreign trips. Get confidence. Go for it.
Register now on www.beejaysenglish.com to find out how to reach realize your full potential. Call Direct 09704674382 or 07382547295 04027196153 or Skype: beejays.english
BeeJays English Online Academy
Quickly making ordinary people extraordinarily good in American Accent.
Write review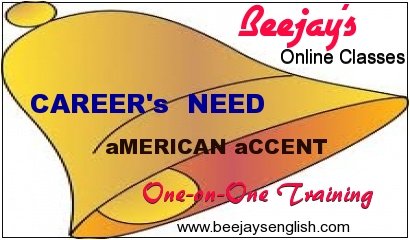 Learn american accent for online meetings
Write review
Leave your comments on this ad
Offensive messages and spam will be removed